Vietnam Internet economy to expand 31 pct: Google report
Vietnam's Internet economy is expected to grow by 31 percent to $21 billion this year despite little or no contribution from the online travel market.
It is set to reach $57 billion by 2025 after growing at 29 percent a year, according to the e-Conomy Southeast Asia 2021 report by Google, Temasek and Bain & Co.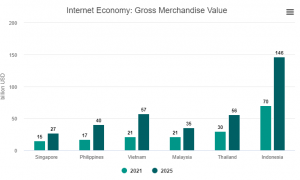 This means Vietnam will draw level with Malaysia this year and exceed it by 2025.
It is now only below Indonesia ($70 billion) and Thailand ($30 billion) among the six major economies in Southeast Asia.
It added eight million new digital consumers between the start of the pandemic and the first half of this year, 55 percent of them from non-metro areas.
"Stickiness of adoption remains high as digital consumption has become a way of life," the report said, pointing out that 97 percent of the new consumers are still online.
The value of the online travel sector is set to plunge by 45 percent this year, but other sectors are headed for double-digit growth, led by e-commerce at 53 percent.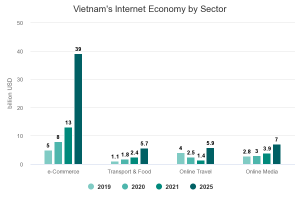 Digital merchants are becoming tech-savvy and likely to become even more so in future.
Thirty percent of them said they would not have survived the pandemic if not for digital platforms.
Digital financial services are also becoming critical enablers, with 99 percent of digital merchants now accepting digital payments.
The country saw deal values in the Internet economy quadruple year-on-year in the first half of the year to nearly $1.37 billion from 89 deals.
"Vietnam remains a very attractive innovation hub with more incubators, accelerators and innovation labs than most other markets in the region," the report said.
The latest deal saw a group of investors led by insurance company AIA invest $258 million in e-commerce company Tiki.
Source: https://e.vnexpress.net/