Information, communications revenue hits $151 bln
Vietnam's information and communications industry recorded a revenue of VND3,462 trillion ($151 billion), up 9.6 percent year-on-year to a new peak.
Information and Communication Technologies (ICT) contributed most to the $136 billion revenue, up 9 percent, with the majority coming from foreign direct investment companies, according to a recent report by the Ministry of Information and Communications.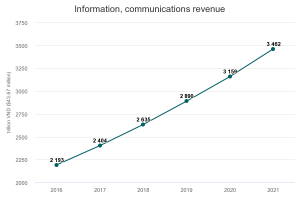 Vietnam now has 64,000 digital businesses, up 10 percent, but with most of them (over 90 percent) small- and medium-sized, they have limited resources to invest in research and development of new products and services.
The number of workers in the industry rose 8 percent to over 1.4 million people.
Challenges caused by the Covid-19 pandemic have boosted digital transformation across all ministries and businesses, the report stated.
The communications ministry maintains its vision to transform the industry from low-added value machining and assembling to "Make in Vietnam", meaning to master core technologies.
It wants to have "Make in Vietnam" products and services to account for over 45 percent of the total by 2025, when the country is set to have 100,000 digital businesses.
Source:https://e.vnexpress.net/